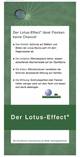 The Lotus-effect® gives stains no chance!
· The model: dirt on the leaves and flowers of the lotus plant drips off along with the rainwater.
· The reason: water repelling wax crystals on their surfaces.
· The vision: microscopic structures enhance the dirt repelling properties of textiles.
· The result: dirt particles and stains cannot hold to the surface and are easily washed away.

The Lotus-effect®
With the support of BASF Aktiengeselschaft
An astounding property of nature
The leaves and flowers of the lotus plant do not become wet and stay amazingly clean. The surface of many other plants, such as the nasturtium, the tulip or Kohlrabi also possess this property.
The reason for this is the presence of microscopic, water-repelling wax crystals on the surface. They ensure that water drops and dust particles are not allowed to the surface, and are instead regularly washed away. This process provides the plant with an essential function: not only keeping its leaves clean, but also protecting it from infection.
Prof. Barthlott from the university of Bonn, and colleagues, ascertained for the first time in their 1997 review, that the interaction between the roughness of the surface, reduced particle adhesion and water repellents, is the key to understanding the self-cleaning properties of many biological surfaces.


Physical bases of self-cleaning
The combination of wax crystals, air pockets and knobbly structure creates a surface which water particles cannot penetrate and are instead forced into a globular-like form. Because of this, the water particle's frictional resistance, is in comparison with a similarly smooth surface, starkly reduced. This allows water particles to wash away all dirt particles.
Important for the moisture penetration of surfaces is the interaction between water surface energy, plant surface and air. The microscopic structure of the wax crystals produces a reduction in the surface energy and strengthens the water repelling properties.

Self-cleaning textiles modelled on the lotus plant
Textiles are normally protected from dirt by the use of fluorocarbon resins. This creates a water and oil repelling polymer film that stops dirt particles and stains from sticking to the surface and are therefore easy to wash off. In particular, with oil and fat based dirt, these products have proved themselves.
Lotus-like micro structures on such a surface can hugely improve the results of fluorocarbon films. Because of this, textiles which are massively better at repelling dirt and water, are possible. Like with the example of the lotus plant, dirt comes off with the need of hardly any water.
The creation of very small structures, which are at the same time washable and structurally robust, while not affecting the smoothness of the fabric, still presents, for the chemical and textile industries, a huge challenge. Despite great efforts, the commercial breakthrough of self-cleaning textiles, to which nanotechnology plays an important part, has not happened yet. However, progress will make cost-effective production methods of lotus-type textile surfaces possible in future, and strongly change our consumption habits of textiles.

Dr. Michael Schmitt, BASF AG Ludwigshafen