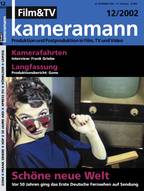 Dateien zum Download 1 Datei(en).
Weatherproof.
A specialised work-jacket for film and TV crew members (photo with director Sönke Wortmann as 'model') has been developed by Hamburg fashion designer Heike Hüning, and presented for the first time at Cinec. Since then I have been giving it a thorough testing at work.
The outer-jacket is made of Gore-Tex "Basel³ 2-layered laminated, a particularly robust Gore-Tex material. Despite the incredible robustness the material is pleasantly soft and quieter than stiffer materials – an advantage when on a shoot where sound is being recorded. My test jacket was matt black for good reason, but the jacket is available in other colours. The removable inner-jacket is made of Gore-Windstopper "Glacier³ 3-layered laminated, a downy material like fleece, but which breathes while also being wind-proof. On outdoor shoots this combination offers first rate protection against the cold, wind and rain. When you are standing around for hours on end it keeps you warm, and during hard physical work it allows body perspiration to dry without letting the body cool. With this in mind, the jacket has a longer cut than normal hiking jackets, providing the lower body with extra protection. Apart from excellent protection against the elements the jacket offers numerous practical functions, like a detachable walkie-talkie pocket, a shoulder-mike loop on the left shoulder, an unzippable Windstopper lined reversible hood, large outside pockets, miscellaneous inside pockets, also in A4 size, and arm pockets for writing utensils and mobile phones.
All important seams are water tight and all zips are from Swiss company Riri and are the best in the world. The jacket complies to Euronorm 343, regarding weather protection for clothes, and is therefore eligible, as work clothes, to be deducted against tax. There are both a male and female, as well as long and short cuts available. The jacket is produced by Fuchs und Schmitt in Aschaffenburg. The price is €479.

- Ian Umlauff

Contact: www.heikehuening.de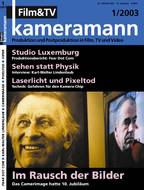 Dateien zum Download 1 Datei(en).
New for Film & TV Cameraman readers:
EQUIPMENT FOR FILM PROFESSIONALS

The Media Jacket, designed especially for film, television and broadcasting crew members by fashion designer Heike Hüning.

Camera: Vilmos Zsigmond | DOP: Sabine Felber | AD: Michael Kuhne | Price: €479 plus VAT

Two-in-one.
A jacket for the whole year round: the Media Jacket is a combination of an outer and inner jacket, both of which can be worn separately. The removable hood can be attached to both parts of the jacket.

Waterproof, impermeable to wind, breathable
A high-quality, hard-wearing but light GORE-TEX® material is used for the outer jacket. The removable inner jacket is made of WINDSTOPPER®.

High motility.
Light materials and a loose cut offer high wearing comfort. The materials and extras have especially been chosen so as not to rustle or reflect during a shoot.

Space for everything.
Numerous deep pockets provide enough space for everything that needs to be within quick reach. On top of that there are many extras such as a call sheet clip, and attachments for microphones and walkie-talkies.

For more information and to order, go to www.medienjacke.de